Successful project proposal – SMART-GRIP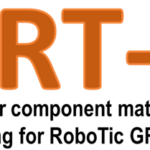 The Department of Manufacturing Science and Engineering has successfully submitted a project proposal to the 2nd open call for the EU-funded H2020 project Market 4.0 as part of an international consortium. After a favorable evaluation, work has already been started on the SMART-GRIP sub-project (Integrated Software suite for component matchmaking and MAintenance planning for RoboTic GRIPpers) on 01.04.2021.
The SMART-GRIP consortium appears in the Market 4.0 marketplace on the supplier side, where we aim to help potential customers in selecting adequate robotic gripper solutions from the products of our industrial partner Rivas Robotics. For this purpose, a matchmaking software tool is developed, which helps to select the most suitable grippers tailored to the end-users' needs with a questionnaire, and also provides a preliminary quotation. To support users in the selection, an existing maintenance optimisation software called MSO (Maintenance Schedule Optimisation) – developed in an earlier project called PROGRAMS –  will be further developed as well, in order to optimise maintenance strategies and schedule maintenance activities, as well as determine expected maintenance-related costs for robotic grippers.
In SMART-GRIP, BME DMSE acts as the developer of MSO algorithms.
In the framework of the SMART-GRIP project, the goal is to optimise the MSO software further, make it more robust, enhance the overall user experience, and tailor the existing MSO prototype to the application field of robotic grippers.
Planned duration of the project: 01.04.2021 – 31.03.2022.
Total funding: 250 000€, funding for BME DMSE: 65 000 €
Consortium partners of the winner proposal:
We Plus (Italy)
CeSi (Italy)
Rivas Robotics (Spain)
BME DMSE (Hungary)
Further information: SMART-GRIP flyer