Reharob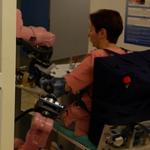 The Hungarian-Singaporean bilateral research project, under support from grant No. TÉT_08-SG-2010-0002 in Hungary has been completed with success.  The research was performed by the Department of Applied Mechanics and the Department of Department of Manufacturing Science and Engineering, the National Institute for Medical Rehabilitation, and the Elmaflex Technical Development and Automation Ltd at the Hungarian side,  the School of Mechanical and Aerospace Engineering Nanyang Technological University, the Tan Tock Seng Hospital Rehabilitation Center  at the Singaporean side. One of the major results is the extension of the REHAROB Therapuetic System, originally developed in an EU FP5 grant started in 2000 and coordinated by the BME DMSE, with a hand module and with support to active guided motion therapy.  The robot therapeutic system has been clinically tested in the National Institute for Medical Rehabilitation on 20 spastic hemiparetic post stroke subjects. Their rehabilitation programme included robot supported practising of five selected activities of daily living (ADLs) – drinking, making phone call, closing and opening a door,  zipping and unzipping a vest, drying the face with a towel – five times each in series of 20 day sessions.
More information on the homepage of the project: http://cosmosys.mm.bme.hu/ and in the public electronic media:
http://www.egeszsegkalauz.hu/idegrendszeri-betegsegek-mozgasszervi-betegsegek/ipari-robotbol-orvosi-robot,
http://www.weborvos.hu/hirek/ipari_robotbol_fejlesztettek_orvosi_robotot/226175/,
http://www.origo.hu/foto/multimedia/20150923-a-nap-kepei-2015-09-23-sajtofoto-hirkepek.html,
http://www.innoportal.hu/a-nap-kepe-orvosi-robotot-fejlesztettek-magyar-szakemberek,
http//www.uzletresz.hu/vallalkozas/20150928-labor-nelkul-is-lehet-fejleszteni.html
érhető el.